Italy is known all over the world for its "arte de vivere", and its unique gastronomy.
The Italian way of life is all about enjoying every moment, and sharing it with your loved ones.
This is a country where cooking has been elevated to an art form, and where within every region lies a culinary treasure.
Italian cuisine is generous, vibrant, delicate and committed to showcasing fresh, local, seasonal ingredients.
We are proud to present PanItaly, our brand of Italian breads that stands for the best of this Italian "arte de vivere" : true Italian tradition, exceptionally made.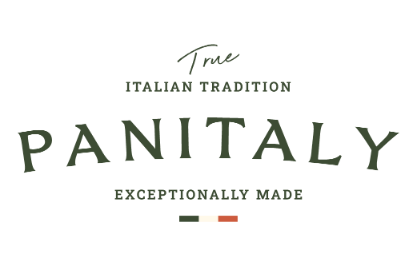 The Italian art of living
is a story of transmission, of encounters, of people.
It is when centuries-old traditions meet the daily life of today's Italian families;
It is when bakers, Italian traditional know-how and modern baking come together.
When a smile, a bond, and joy are shared around a table.
When you enjoy an exceptional authentic bread.
It sounds like magic, when there is happiness in the air;
It smells like perfect coffee and feels like dancing, laughing…
It tastes like everlasting times and happy memories.
Discover our range of Italian breads and immerse yourself in a true Italian culinary experience.
Our products are typically Italian, and the majority is made in Italy, guaranteeing you unrivalled authenticity. Each ingredient is carefully selected to offer the best quality and richest taste possible.
We are committed to preserving traditional production methods, in particular the use of BIGA in most of our products.
Our staff are experts in their field, mastering Italian bread-making techniques to bring you exceptional breads.
Whether you choose our focaccia, ciabatta or panini, you'll be transported to Italy with every bite.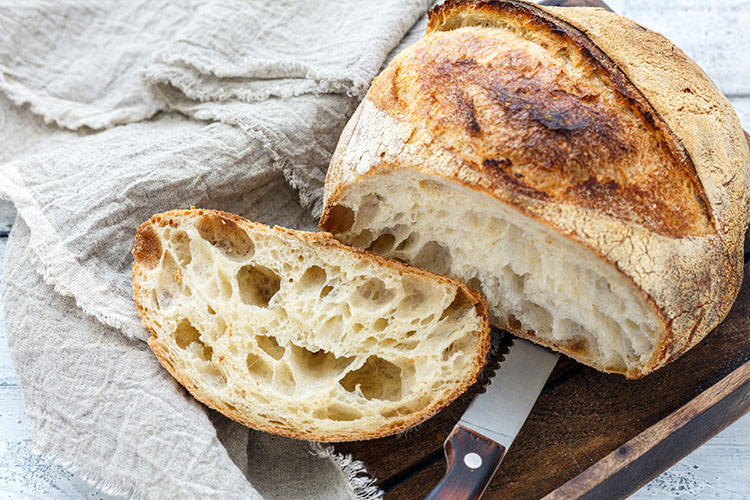 What are our types of italian bread?
Discover the authentic flavor of Italy with our full range of PanItaly products.
Our fluffy focaccias, our crispy ciabattas and golden bastoncinos offer you a wide range of options to satisfy everyone and a true taste journey to Italy.
Our Focaccias
This flat bread, originating in Liguria, is characterized by its soft texture and crispy crust, sprinkled with generous touches of salt and olive oil. Whether served as part of a meal, as focaccia will take you back to Italy with every bite.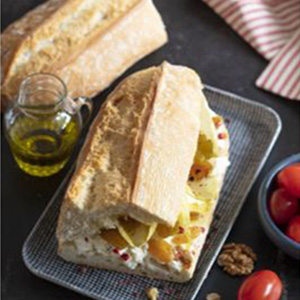 Our ciabattas
Originating in the Venice region, this Italian bread is distinguished by its airy crumb and crisp crust. Its subtle flavor is enhanced by a hint of olive oil.
Perfect for sandwiches and bruschetta, ciabatta is a staple of Italian cuisine, providing a solid base to showcase the tastiest ingredients.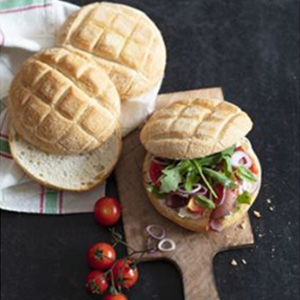 Our Giottos
"Giotto" is the name we have given to our Italian rolls. Whether you're preparing a tasty sandwich, enjoying them with soup or dipping them in a sauce, Giottos offer a comforting and delicious culinary experience, with an with an Italian twist.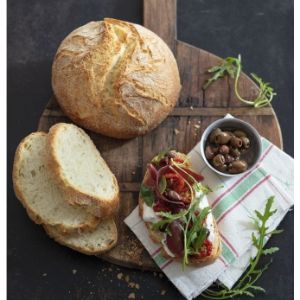 Our bread loaves
Large Italian loaves are a true icon of Italian baking, with their generous size and delicious taste. There are the perfect accompaniment to a meal, sliced to make gourmet sandwiches or simply enjoyed with a little olive oil.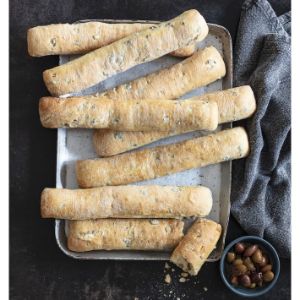 Our bastoncinos
Bastoncino is a small golden, crunchy bread stick, often sprinkled with salt, aromatic herbs, olives or grated cheese. This crunchy bread is perfect for dipping in sauces or even eating on their own, as an aperitif, a snack or an accompaniment to soup.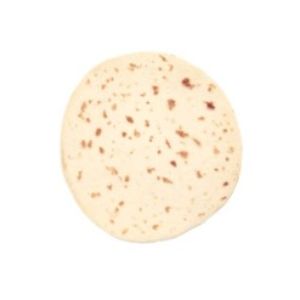 Our piadinas
Originating in northern Italy, Piadina is a thin, round flatbread, usually made from flour, lard, salt and water.
Whether for a quick lunch or a snack on the go, it is often filled with fresh ingredients to be enjoyed as a warm, comforting sandwich.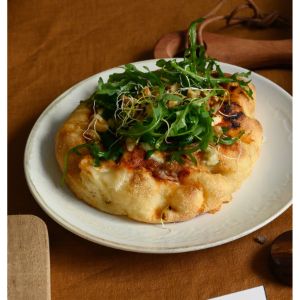 Our pinsa tondas
Originating in Rome, Pinsa is characterized by its oval shape and dough made from wheat flour, rice flour and soya flour.The dough is fermented for a long time, allowing it to develop complex flavors.It is traditionally filled with fresh ingredients: vegetables, meat or cheese
.
Our paninis
A staple of Italian cuisine, the Panini is a warm, toasted sandwich made from soft, crusty bread.
It is filled with a wide variety of ingredients, then pressed and toasted, giving it a crispy texture on the outside and a warm, melt-in-the-mouth interior.
Typical Italian recipes, created by our italian chef
The watchword of our product range is versatility!
Get inspired by the recipes prepared by our Italian chef, Riccardo.
From bruschetta to Italian burgers, not forgetting focaccias served as an aperitif, there's more than enough to give your customers an authentic culinary experience, a trip to Italy!
Made in Italy
Most of our Panitaly breads is made at our factory in Liscate, near Milan. Combining traditional expertise with technology, we strive to use all our passion and know-how to offer you quality breads.
Thanks to our team of passionate and skilled bakers, every stage of the production process is carried out with passion and attention to detail.
We are proud of our ability to combine industrial efficiency with the highest quality standards.
Made with BIGA
BIGA is a fermentation technique used in Italian bread-making. Requiring patience and expertise, it results in a superior quality Italian bread, offering an exceptional and authentic taste experience.
Originating in Italy, it is a pre-fermented sourdough made from water, flour and yeast or natural sourdough.
This mixture is left to ferment for an extended period allowing the natural yeasts and bacteria to develop and release complex flavors.
BIGA brings many benefits, including a lighter, more honeycombed crumb, a crisp golden crust and a deeper flavor. It also helps to extend the bread's shelf life.
Bring the best of the italian baking tradition to tables all over the world!
From focaccia and ciabatta to piadina and bastoncino, rediscover the taste of Italy with our selection of Panitaly products!
The watchword of our product range is versatility!
Top our focaccias with fresh ingredients, make delicious sandwiches with our ciabattas, dip our bastoncino in spicy sauces...
the recipes are endless, from aperitifs to dinners!
Ideal for bakeries, restaurants, bars and coffee shops, our Panitaly products will seduce your customers and meet their needs thanks to their multiple uses and variations.
Let your imagination run wild to give your customers an authentic culinary experience, a trip to Italy!