Baking the best for you
Our Délifrance Héritage range is the best that Délifrance has to offer. The essence of French baking with exceptional quality ingredients and traditional inspired techniques. A wide selection of crafted products with an artisanal look and a unique taste.
PREMIUM AND SUSTAINABLE INGREDIENTS
For years we have worked on having the best recipes with reduced ingredients' list, the removal of controversial additives and more sustainable ingredients.
From our rustic breads to our iconic croissant, our recipes use only the best quality ingredients, including cane sugar, French wheat flour from Grands Moulins de Paris for the viennoiserie and the bread made in France, fine butter and free-range eggs.
What our customers say about Délifrance Héritage
BAKERY INNOVATION TEAM - LOTTE SUPER (SOUTH KOREA)
"The Heritage range enabled our company to successfully increase our bakery category's sales 7 fold"
BAKERY OWNER - NETHERLANDS
"The heritage croissant just excels in its kind. I have chosen this croissant after many tastings and its quality is just far above any others kind. I wanted a croissant that bakes well, has a good layering and a slightly larger appearance, compared to others. That is all I have found in heritage croissant.
We are always increasing the quantity that we purchase, so the customer knows that they can come to us over and over"
GREGORY DERDERIAN - SALES DIRECTOR ARTIPAT (FRANCE)
"In 2017, when the Artipat network was created in France, the presence in our portfolio of Délifrance Heritage range (marketed under the Artipat brand) enabled us to establish our credibility, in terms of premium & trustworthy product offer.
In my opinion, the strength of the Délifrance Heritage range lies in both the quality and the aesthetics of the pastries: a magnificent visual appearance, fine and regular flakiness without equals".
French bakery tradition
The processes we use are strengthened by the passion of our people and respectful of the gestures used in artisan-inspired making, combining long fermentation times with our unique expertise in sourdough.
Our viennoiserie is 100% made in France. Most of our breads are made in France in Dunkirk. Since 2017 we also have a range of hand-shaped artisan-inspired breads made in Altdorf, Germany.
Since the creation of the range, we've been working with experts, bakers and chefs on the development of new concepts and recipes. This includes our collaboration with l'Ecole de Boulangerie et de Patisserie de Paris on ultra rustic breads Their creativity and skill reinforce our dedication to taste and are a trademark of the quality of our products and of our continuous desire to improve.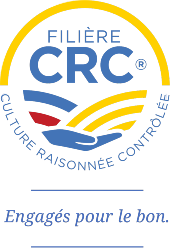 To celebrate our 10 year-anniversary, all our Délifrance Héritage breads made in France are now using 100% CRC ® cereals.
For more than 20 years, Filière CRC® has been guaranteeing 100% French cereals of high quality and cultivated according to good practices for People and for Nature. It involves farming systems in integrated and more sustainable processes including water, treatments and soil fertility management. After harvest, grain is stored under ventilation in natural air without treatment. No storage insecticide is allowed. By choosing CRC®, Délifrance promotes a more responsible way of sourcing that is our responsibility as farmers, millers and bakers.
Hundreds of references launched in the past 10 years.
Launches and awards: the Délifrance Héritage products have been regularly awarded global and local prizes:
ITQI, Prix des Pépites de la Boulangerie, Snacking d'Or, etc.
Our Délifrance Héritage viennoiseries
Our Délifrance Héritage breads