Délifrance is pleased to introduce its latest premium & indulgent innovations.
Join us in exploring with our new products: the Puff Pastry Brioche, Cinnamon Bun, and Lotus Biscoff® Muffin.
---
New premium Puff Pastry Brioche, with its artisan- style characteristics!
A delicious individual Puff Pastry Brioche, in a mold:
a hybrid product combining the best of croissant and brioche, for a unique taste and texture.
Following as closely as possible the traditional recipe, the Puff Pastry Brioche is made with 25% butter in
the dough and free range eggs for a tasty, indulgent and soft product.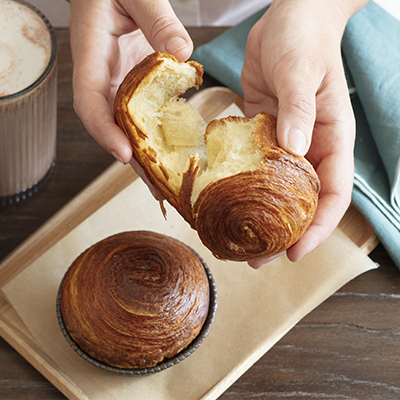 PREMIUM & INDULGENT
Quality ingredients: Fine butter, free range eggs, French flour, whole milk powder.
Artisan-style visual: Voluminous, golden crust and visible layers.
UNIQUE
Taste: Typical taste of a brioche, combining a subtle buttery flavour with slight yeast after taste.
Texture: Combining the layers of a flaky croissant pastry and a fluffy and melt-in the mouth brioche dough.
VERSATILE
Easily customisable: Endless possibilities for customers to be creative, even with simple ingredients (adding toppings, coulis, chocolate sauce, making a sandwich…)
Convenient: Multiple consumption moments, comes in a mould.
Try something new with the versatile recipes
Offering a diversified range is one of the main challenges businesses are facing.
With this in mind, we have developed some easy recipe ideas to help our customers add more value by offering alternative and interesting solutions.
All of these recipes use only the one product: the Puff Pastry Brioche Feuilleté.
Don't miss out on the useful information!
Save our Puff Pastry Brioche document now.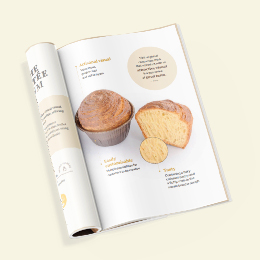 The ultra-comforting and trendy Délifrance Cinnamon Bun, a perfect snacking offer!
A unique individual product combining the crispiness and softness of the croissant dough to a very indulgent cinnamon filling!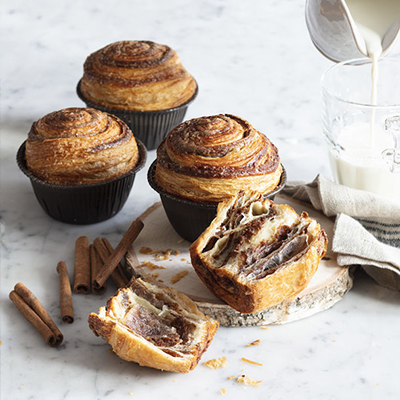 DIFFERENTIATION
Unique product on the market with an eye catching shape.
Comes in a mould for convenience with on the go consumption.
PREMIUM
Artisanal style visual : Quality & voluminous puff pastry with visible layers in a spiral appearance.
Ingredients : pure butter dough, free range eggs, French flour, wheat sourdough, cinnamon spice.
KEY TREND
A pure butter puff pastry filled by a delicious cinnamon recipe, a trendy flavour all accross the world!
The extra-indulgent Lotus Biscoff® muffin, a must-have in your sweet snacking assortment!
You don't want to miss this delicious plain muffin, filled with the world-famous Lotus Biscoff® spread.
The muffin's softness, combined with the melt-in-the-mouth caramelized filling is an absolute delight for any sweet lover,
looking for a generous snack to indulge.
EXTRA-INDULGENT
Generous Lotus Biscoff® spread filling (more than 15%).
CONVENIENT
Ready to serve, 2 to 3h defrosting at ambient temperature.
IMPACTFUL
Lotus Biscoff® branded tulip for a higher visibility in store.
Our new super premium & convenient viennoiserie range :
Les Passionnés



Characterised with a rich recipe and an artisan-style visual,
the new premium addition to Délifrance Héritage range is inspired by traditional French bakers' know-how and passion.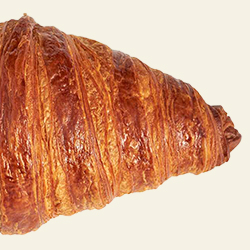 The closest to artisan shape & handcrafted elegance.
Delicious products made with 26% butter in the dough.
Premium ingredients for an exceptional quality recipe.
Stay tuned for its imminent arrival.