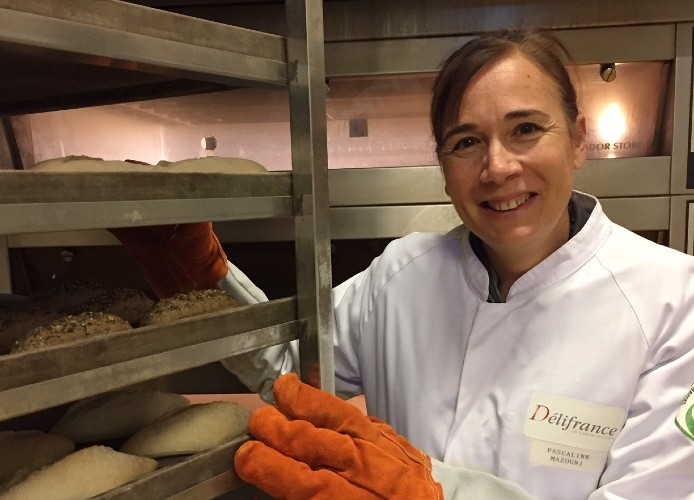 1. HELLO PASCALINE, YOU WERE LUCKY ENOUGH TO SEE THE BIRTH OF THE DÉLIFRANCE HÉRITAGE BREAD RANGE – COULD YOU TELL US A BIT MORE ABOUT IT?

Indeed, I was lucky enough to be involved in the creation and launch of the new Délifrance Héritage bread range on the brand new production line in Dunkirk! I was project manager at the time, and the aim was to launch a range that reflected the best of Délifrance's know-how: exceptional quality ingredients (French flour from Grands Moulins de Paris), a production process that was in line with artisan baking practices – and in particular compulsory pre-fermentation and bulk fermentation (a decisive resting phase for the dough, which allows flavours to develop) – and finally, products that are baked in a deck oven on Alpine stone.
We launched the range with three main recipes: a poolish (pre-ferment) recipe with milky notes, a sourdough recipe with subtle acidic notes, and finally, a multigrain recipe with roasted notes.
Using these three recipes, we developed formats that were suited to our customers' needs, namely baguettes, "petit pain" formats to serve with meals, large loaves to share, and sandwich carriers.
2. OVER THE LAST 10 YEARS, YOU HAVE CALLED ON THE EXPERTISE OF CHEFS, TEACHERS AND BAKERS – WHAT HAVE THESE PEOPLE BROUGHT YOU?

Yes, there have been extremely enriching encounters and collaborations from both a technical and interpersonal perspective! The teachers of the Paris Bakery and Patisserie School provided their technical expertise on pre-fermentations. The Pourcel brothers brought a certain originality in how they combined ingredients of different origins: hazelnuts from the Langhe, Beldi lemons, honey from Provence, etc.
Michel Roth helped give our products a more culinary direction, with novel combinations and in particular the use of red lentils, which give the products a characteristic colour and texture.
And finally, Pascal Tepper, holder of the title of "Meilleur Ouvrier de France Boulanger" (best French artisan baker) has been working with us for years. His artisan baking expertise has helped us adapt to the constraints of our industrial processes and make products that are as similar to artisan bread as possible. A few months ago, we launched the "Mémoire" bread range, created with Pascal. For this project, there was a whole preliminary phase, where we shared and compared techniques and know-how. Then, on that basis, we started developing recipes and processes that met our expectations: the choice of ingredients (T80 stoneground flour, pumpkin seeds), the definition of a suitable process (high hydration rates and long fermentation times), a choice of shapes that are in line with consumer trends (shorter, wider baguettes that are easier to handle, a single cut down the length of the baguette, not too much flour on top to avoid soiling your clothes or car during transportation).
3. HOW DO YOU SEE THIS RANGE OVER THE NEXT 10 YEARS?

I believe that Délifrance Héritage has a bright future – this is just the beginning! There are lots of things we can do to create even more authentic products – with the same quality and artisan influence – such as working on the provenance of our ingredients. For example, since the start of 2021, all Héritage products from Dunkirk have been made using CRC® flour, and we are also developing clean-label products that are free from controversial, so-called "orange-" or "red-listed" additives. We are also working on products that have specific nutritional benefits and are just as delicious, as well as products with a reduced salt content.
DISCOVER THE DELIFRANCE HERITAGE RANGE
Our Délifrance Héritage range, celebrating its 10th anniversary this year, is the best that Délifrance has to offer. The essence of French baking with exceptional quality ingredients and traditional techniques.