Expertise and quality have consolidated our reputation with restaurants, distributors and bakers.
As well as been renowned amongst professionals for our frozen croissants and pains au chocolat, our craftsmanship goes way beyond the classics :
indeed, people on our production lines bring to life unique viennoiserie recipes such as plaits, twists, rolls, curved and filled croissants...
Each day, all of our teams take real pride in offering you the best delicacies, and make everyday delicious.
To find out more about our selection, download our viennoiserie booklet.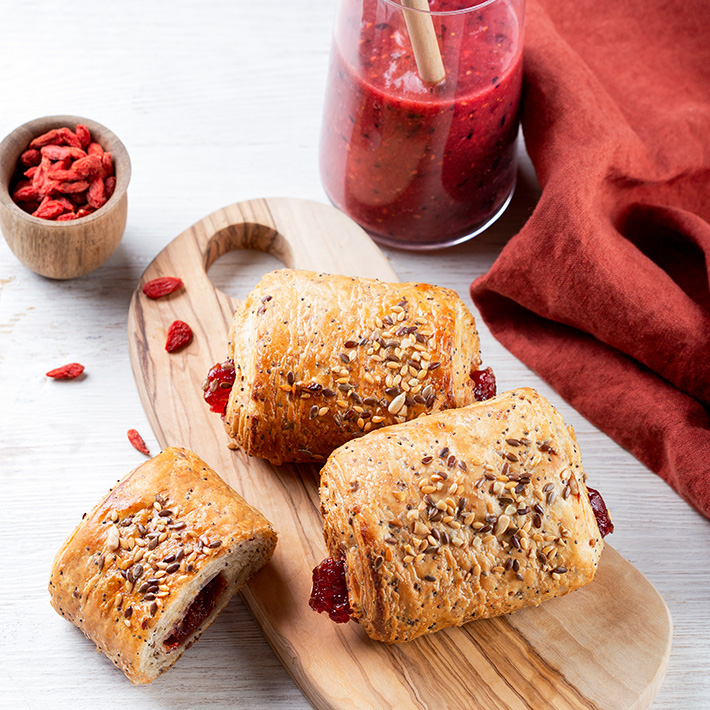 With our long-standing tradition of baking excellence and a wide range of products that meet the needs of customers and consumers around the world, Délifrance has become a valuable business partner.
We endeavor to find solutions to all of our customers' requirements and have developed several types of technologies: through building this relationship with our customers we want to be more than an industrial frozen bakery supplier, we are a real business partner.
This is why reflecting local trends and tastes is key for us. We take inspiration from around the world to meet local preferences and consumer trends, to deliver new taste experiences through the offering of indulgent and qualitative viennoiseries, better for you and for the planet.
Building upon our expertise in viennoiserie, we are continually expanding our capabilities and now have 14 production sites around the world.
Our skilled production staff have years of experience in perfecting production line settings to attain the maximum quality of the dough and finished products using the technical knowledge they have developed throughout their careers.
In addition we now have high-performance lines as well as more flexible ones. This expertise enables Délifrance to bring superior quality viennoiserie products to market.
Délifrance presents: Tasting Moments with Rodolphe Landemaine
Discover some of the manufacturing secrets of our viennoiseries with the help of Rodolphe Landemaine,
well-known baker & pastry chef in Paris, as we invited him to meet five managers from our sites and taste some of our specialties
Each factory manager selected our top viennoiserie products from our sites located at
Avignon, Béthune, Landévant, Romans-sur-Isère and Martainville,
and shared secrets about the techniques and ingredients behind our original delicacies.
AVIGNON #1
Sweet treats from Avignon
BETHUNE #2
Delicious creations from Béthune
LANDEVANT #3
Indulgent treats from Landévant
ROMANS #4
Know-how and Heritage in Romans
MARTAINVILLE #5
The great classics of Martainville
Discover our viennoiserie selection
Download our viennoiserie booklet to learn more about our know-how.